DUBAI, United Arab Emirates, 19 November 2022 (GLOBE NEWSWIRE) — Food – the blessed commodity that fuels our bodies and ignites our minds, our health and are essential components of well-being. But what if you know that not everyone has access to this food and that bold steps need to be taken to ensure food security now and in the future?
This idea has driven entrepreneur and breakthrough Emirati innovator Khalifa AlJaziri on a unique mission to find solutions.
An early adopter of cutting-edge technology in both his business and public spheres, he has always pitched ideas long before the world has caught up.
Known both locally and abroad, he is an IoT expert, established public speaker, educator, technologist, environmentalist, and advocate of blockchain networks, NFTs, DAOs, and the Metaverse.
With a background in architecture and urban planning, he has always had an interest in sustainability and effective resource management. He used his unique skills to try to solve the problems of food shortages and food maldistribution around the world.
He believes that deploying IoT systems to bridge the gap between technology, animal husbandry and agriculture can capture valuable data to improve food productivity.
Malaysian giant Rimaunangis SDN BHD has been active in agriculture and animal husbandry for over ten years. The company's Executive Chairman and Co-Technologist, Dato Muhammad Firdaus Azhar, understands that access to finance is a key issue for agriculture around the world. Due to the intermediate products, farmers often fall prey to the supply chain, unable to get a fair price for their produce or labor.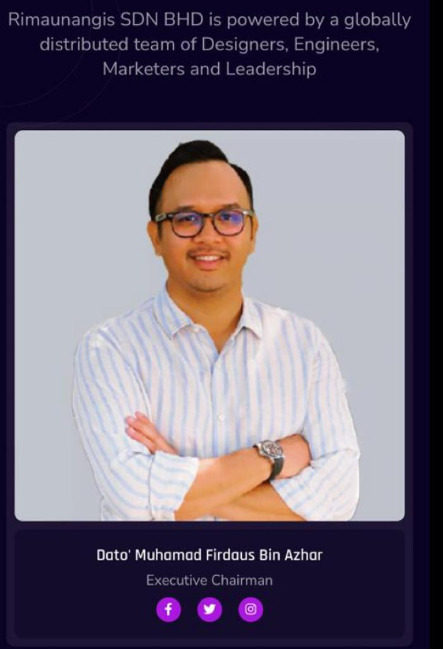 Khalifa AlJaziri and Dato' Muhamad Firdaus Azhar have convened a conference to discuss the critical role of blockchain technology in agriculture and animal husbandry. Utilizing the concept of smart contract NFTs in the development of new agricultural metaverses will bring great benefits in this area.
IoT optimization in smart farms effectively handles the massive amounts of data generated by remote monitoring of soil, water, field conditions, livestock health, and consumption. This greatly improves the supply chain, increasing productivity and profits.
Soon farmers, livestock owners, wholesalers, governments and investors will be able to work together with the help of technology, and the results will be immediate and actionable, creating significant revenue streams for all involved. increase.
On the occasion of the 51st UAE National Day, Khalifa Al Jaziri will announce to the world the creation of an NFT marketplace for global food security. He outlines a robust framework that includes funding models, efficient use of NFTs, and opportunities for all his NFT owners to benefit from profit sharing based on Islam and his Shariah principles.
We can soon see a future where we and our future generations will have easy access to food and food systems.
Disclaimer: This article does not constitute an offer to sell, a solicitation of an offer to buy, or an endorsement of security or other products or services. This is not investment advice. Please do your own research.
Contact details:
Contact Name: Dato' Muhamad Firdaus Azhar
Company name: Farming Online FZ LLC
Location: Dubai, United Arab Emirates
Email: Admin@farming.online