It is often said that marketing is the light factor of any organization; brands remain in the dark until an effective marketing strategy shines the light and brings you closer to your audience.
There are about a dozen marketing strategies, which email marketing offers a unique approach through cordiality. Unlike social media posts or blogs that can appear public, email is like a private message sent between acquaintances; therefore, it brings the brand closer to the customer.
Data from Optinmonster.com suggest that 99% of people check their email every day; in fact, some check email up to 20 times a day, and 58% of people check email first before getting out of bed, even more than social media or news.
Also, according to Oberlo, Email ROI is incredibly strong, at 4,200%, which means for every $1 spent on email marketing, you get $42 in return. Therefore, the importance of email marketing cannot be underestimated, and if you have not yet put together a marketing strategy, this article is for you.
What is Email Lead Generation? Why Is It Important For Your Crypto Project Campaign?
The most important and challenging part of email marketing is lead generation. Lead generation is the process of obtaining email contact information from your target audience in exchange for value.
Several crypto projects exist, each having a Unique Value Proposition (UVP); for example, many new coins are bootstrapped through Initial Coin Offerings (ICO) that enable many people to invest in the project before launch, giving people the opportunity to benefit massively as early investors. Additionally, some NFT projects launch via pre-mint, where people apply for a whiteboard to gain early access.
Although some people invest in some projects, many of them aim to make a choice from the hundreds of options out there in the crypto space; therefore, to get the best results from your marketing, you must have a UVP to filter your target audience from the general public.
For example, a new coin that wants to launch through an ICO may offer a Unique Value Proposition new coin holders will:
Automatic qualification for airdrops.
Get a free debit card for crypto transactions.
Can spend tokens in physical trading stores and get spending rewards etc.
Of course, people interested in this value proposition will be happy to join the project; However, good marketing practices require you, as the project owner or marketer, to convert prospects into leads.
Who is an Email Lead?
Email leads are people who have shared their contact information as an expression of interest in your project. At that point, they are no longer prospects but "leads" who are more likely to take the necessary action.
Projects can stay in direct contact with leads who are friendlier than prospects through email outreach, unlike prospects who only know about the project through blogs or social media; by immediately remaining in the lead, reminders of critical dates and necessary actions can be taken, so that the audience does not forget about the project.
Keeping prospects hooked enough to get personal contact information is done through a magnetic lead. As you know, magnets attract metals; Also, a lead magnet is a free item or service that is used to attract prospects and get them to drop their email information.
The Best Lead Magnets For Crypto Projects
The secret to an effective lead magnet is to give out something valuable that otherwise would cost money to have. Therefore, when your prospect knows how much value you're going to provide for free, it will grab their attention, and they'll be more likely to send you their email contact information.
1. Airdrops
One of the best ways to get email leads for your project is through airdrop giveaways. Airdrops are free tokens given to early supporters of a crypto project as a reward. For example, when trying to get people to vote for an ICO presale, promising them to win free tokens as project backers even if they don't participate in the presale is a good way to get email sign-ups.
Finally, since they are interested in the idea of ​​the project, getting more emails about the project may lead them to participate in the ICO.
2. Free NFT Giveaways
The launch of the NFT project can also promise to offer some NFT as a catch for email signups. Say, a collectable NFT project launching 1,000 unique NFTs can promise to give 5, similar to airdrops. However, unlike airdrops that can be used to give prizes to hundreds or thousands of people at once without cost, this NFT prize can require the winner to be selected for minting with a gas fee (paid to the network) – this kind of prize is also called "mint free" whitelist.
The chance to get the NFT you want for free can convert skeptical prospects to sign up via email; therefore, even if they don't end up with the prize, consistent communication can convince them to invest in the project.
3. Whitelist Point
white list, otherwise called allowlists, is a group of people who are given exclusive access to certain privileges. For example, the ICO whitelist place can be given to some people to buy coins at a lower price before others in the presale; similarly, NFT whitelists can be given to people to mint NFTs at a lower price than the general public.
The benefits of starting a promising project cannot be overemphasized; therefore, whitelist placement is highly coveted, so your prospects have a small chance of getting whitelisted to speed up sending their email addresses.
The methods mentioned above help you build a quality email list, not just a quantity. You're sure that everyone on your email list is interested in your project, and that your email doesn't look like spam.
Therefore, we can say that the right UVP will guarantee your prospects, and the right lead magnet will ensure you lead a quality email list.
Get Email Opt-In Through Cwallet Giveaway Tool
Cwallet's giveaway tool allows you to easily get email opt-ins while giving away tokens and whitelist space for free. The biggest advantage of the Cwallet Giveaway tool is that in addition to helping you collect email lists from prospects, it also helps you collect additional email signups using social media through a task-based reward system.
Therefore, you can collect email opt-ins by promising airdrops, whitelist placements, and other rewards by asking them to complete simple tasks such as liking a post on Facebook, retweeting on Twitter, following an Instagram account, etc.

Cwallet Giveaway Create Page
In addition to the email list you collect, you get free social media marketing, where other prospects will find out about your crypto project and sign up via email. Of course, new prospects want to get rewarded too, so the loop continues, and everyone who wants a freebie bite ends up on your email list.
Send Personalized Emails to Your Leads Through Your Newly Created Email List
You should never forget that the purpose of collecting these emails is to develop rapport with your leaders, which is easier with an email list.
At the end of the giveaway period, when the draw has been made and the winner has been chosen, the Cwallet Giveaway tool allows you to download a copy of the results, which includes all the email lists and first names, so that you can download them in .csv format as shown below.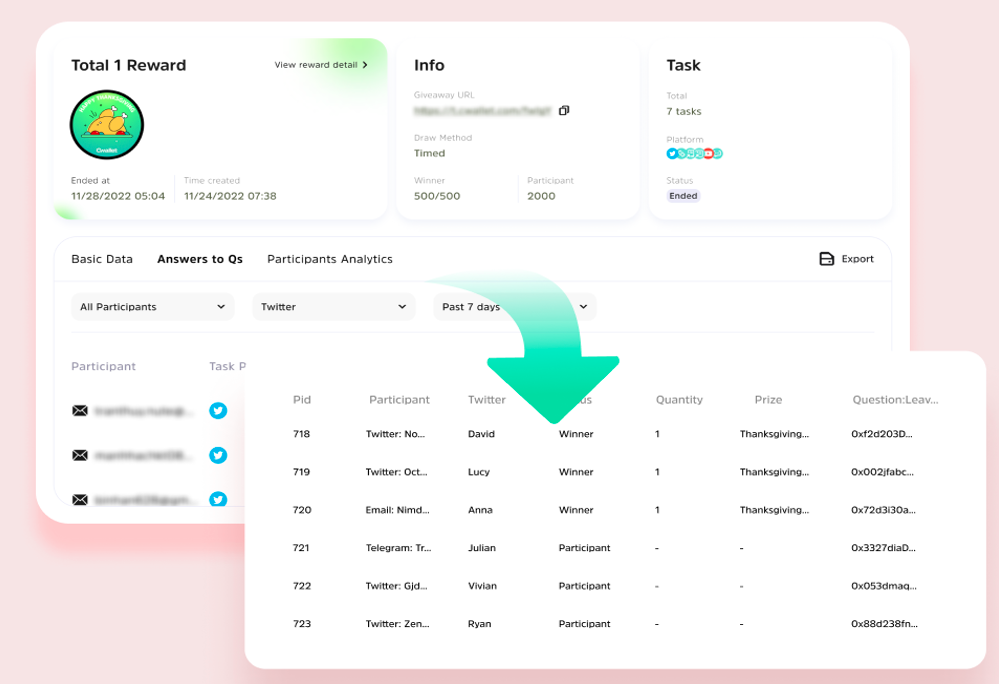 With this list, you can send bulk periodic emails for FREE via Microsoft Outlook, Gmailor any other email marketing platform of your choosing.
Outlook, Gmail, and many other email marketing platforms will allow you to import your .csv, including your lead's first name and email address, and with a few clicks, you can send personalized emails to keep in touch and maintain good relationships. with your lead.
The final takeaway
The importance of a quality email list that includes people interested in your offer cannot be overemphasized. According to Spamlaws.com, 45% of all emails, most commonly related to advertising, are spammy; However, a quality email list helps to ensure that your emails don't end up in the trash or spam boxes.
So, instead of buying email lists and spamming people without a defined target audience, why not keep it simple? Log in to Cwallet and use our embedded Giveaway tool to build a quality email list for your crypto project for FREE!
Don't delay! Discover your Unique Value Proposition today, and simplify the lead generation process with the Cwallet giveaway tool. Learn more.