The report examines the main factors driving crypto adoption. The findings are based on retail usage of cryptocurrency exchanges in 95 countries over a seven-year period from 2015 to 2022.
The Bank for International Settlements (BIS) is a global financial institution that serves as a forum to facilitate economic debate and policy analysis. According to its website, the BIS's mission is to "help central banks in their pursuit of monetary and financial stability through international cooperation." The BIS is therefore often referred to as the central bank of all central banks in the world.
BIS also serves as a center for economic and financial research. To that end, we regularly publish "working papers" on various aspects of the financial world. On November 14, officials from the Financial and Economic Affairs Division of the BIS published Working Paper #1049 titled "Cryptocurrency Trading and Bitcoin Prices: Evidence from a New Database of Retail Adoption".
The report examines the main factors driving crypto adoption. The findings are based on retail usage of cryptocurrency exchanges in 95 countries over a seven-year period from 2015 to 2022.
It sheds light on multiple factors dealing with crypto adoption based on age demographics, trading strategies, and market sentiment. Some of the key findings from the report are listed below.
Crypto adoption increases as BTC price rises
The report states that crypto adoption will increase significantly once the price of Bitcoin begins to rise. This is not because investors dislike the traditional banking system, lose faith in public institutions, or see BTC as a store of value, but rather because of rising price valuations that attract them to cryptocurrencies. indicates that the
To back up this statement, the Bitcoin price has seen a staggering surge from $250 in 2015 to $69,000 in November 2021. At the same time, daily active users (DAU) increased from 119,000 to 32.5 million. The study also noted a surge in new monthly active users for cryptocurrency exchange apps during price increases in late 2017 and early 2021.
Most investors lost money on BTC
According to the study, over the past seven years, around 75% of all users downloaded crypto exchange apps when BTC was trading above $20,000. Assuming they also bought BTC at the time, the report estimates that nearly 81% of all these investors are currently in the red, especially with BTC currently suffering at $16,975.
The graph above shows that most investors suffered losses, with the exception of a handful of investors who made sizable profits. Blockchain intelligence company Glassnode has also endorsed the concept, albeit with more conservative numbers.
Currently, only half of all Bitcoin addresses are green. In a tweet on Nov. 14, the company said, "$BTC profit margin hits 2-year low of 51.881%."
Demographic study of crypto users
The paper also provides insight into the demographics of crypto users around the world. The survey found that nearly 40% of his cryptocurrency users are male under the age of 35. The second largest demographic is men between the ages of 35 and he is 54, making up 25% of all cryptocurrency users.
It's a similar story for women, with most female cryptocurrency investors under the age of 35. This may be because younger individuals are more open to risk and don't care about cryptocurrency volatility (more on this in the next point).
In terms of location demographics, crypto exchange app adoption was highest in Turkey, Singapore, the United States, and the United Kingdom during the analysis period. In contrast, it was lowest in Japan, Mexico, Indonesia, India, and China.
The study cites legal restrictions to reduce cryptocurrency adoption in India and China. While in the UK, individuals associate cryptocurrencies with gambling. Winning or losing is only part of the process.
Risk appetite of US consumers aged 20-79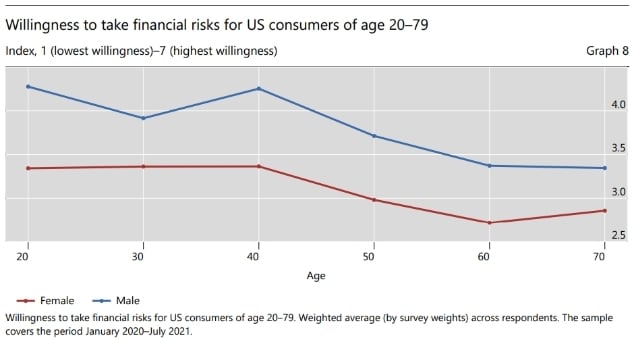 Research shows that in the United States, younger men have a higher risk appetite and are more likely to react to price movements than older men and women. Another interesting finding, according to BIS research, is that his Android users, low-income investors, are more likely to use cryptocurrency exchange apps after prices rise. So the Android user is more open to risk than her iOS user.
Differences in behavior between large and small investors
Bitcoin's supply is limited to 21 million tokens, and the study clearly showed that retail investors tend to enter the market when the price spikes. So who is selling their BTC holdings during these price increases?
This paper comprehensively analyzes Bitcoin blockchain wallet holdings to find the answer to this question. Complementary on-chain data allowed researchers to study and distinguish between small, medium and large Bitcoin holders, including a whale with over 100,000 BTC in her wallet and an even larger humpback whale. rice field.
Research shows that small and medium-sized Bitcoin wallets generally appreciate in value when the overall price of the token increases. But whales are the opposite and usually prefer to sell at that time of year. These wealthy investors therefore profit as retail investors flood the market in an attempt to ride on price gains. The rich get richer and you know the rest.
The conclusion is
The paper successfully establishes that the increase in crypto exchange app usage is directly proportional to the increase in crypto prices. It also shows that most investors buy at the wrong time, when prices are high, resulting in unrealized losses on their crypto holdings.
Therefore, a smarter move is to buy when prices are low or adopt dollar cost averaging to lower your acquisition costs. However, the crypto market is highly volatile. Therefore, you should do thorough research and only invest an amount that you can afford to lose completely.